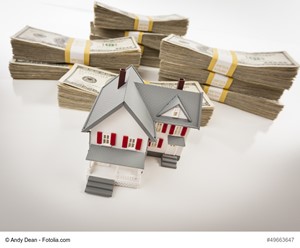 Perhaps one of the most challenging things about buying a home is saving for the downpayment. Collecting such a large sum of money can be difficult. The truth is that most buyers actually think that they need more than they actually do to buy a home. The downpayment doesn't need to be a barrier to your path to homeownership. There are so many programs that offer low and even no down payment home loans. Read on to learn more about down payments and programs that can help you. 
First, let's look at what a down payment is and how it can help you. If you put 10% down on a $200,000 home that's $20,000. The downpayment minus the purchase price of the home is $180,000, and that's how much your home loan will be. The more money you can put down on the house, the lower your home loan will be and the lower your monthly mortgage payments will be. A large down payment can indeed save you in the long term. If you're looking to move into a home sooner rather than later, saving a considerable sum isn't always possible.  
Low Downpayment Mortgages
You need to decide what type of home loan you need by the amount of downpayment you're willing and able to put down. Some benefits go along with making a down payment, but there are some negatives. 
By making a substantial down payment you may despite your savings, leaving little money for emergencies. Your mortgage rate may not be affected by a large downpayment either. It can be hard to decide what type of loan to get and just how much you really can afford.  
FHA Loans
FHA loans are among the most popular type of home loans. The downpayment that's required is just 3.5%. The requirements are simple, and you don't have to be a first-time homebuyer to qualify. 
The drawback to an FHA loan is that you cannot cancel the monthly mortgage insurance that comes along with it unless you refinance the home. Traditional mortgage insurance is canceled when you have built up 20% equity in the house, but this isn't the case with FHA loans. 
Another positive about FHA loans is that your credit score doesn't have to be stellar in order for you to qualify. Some lenders approve FHA loans with credit scores as low as 580. 
VA Home Loans
Buyers who have current or former military service status can qualify for this zero down mortgage. These loans are benefits to veterans and current members of the Armed Forces. While no downpayment is required, buyers may put down any amount they wish. The only requirements are that buyers be members of the military either currently serving for 90 days or two years of active duty service if not an active member.   
The above options are great for those who can't afford or don't wish to put down large down payments but still hope to be homeowners.